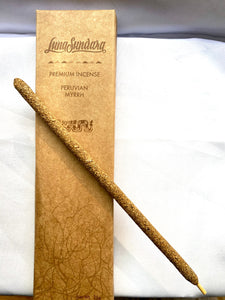 Myrrh Incense Sticks - $10
Premium myrrh hand rolled incense sticks from 100% wild peruvian myrrh.  Mediate, relax and cleanse to the smoke of these high-quality, hand-rolled sticks, which give off a continuous burn similar to traditional incense.
These incredibly aromatic Peuvian myrrh incense sticks are hand-rolled by talented Peruvian artisans and made with 100% natural ingredients, including ground high resin Peruvian myrrh and natural binding gum from various species of the Acacia tree.

When burned, Peruvian myrrh emits a warm, earthy and woodsy fragrance, with slight balsamic undertones.

To use, light the tip of the stick and allow the wood to burn for under a minute before blowing out the flame.  Relight as needed.

Contains 6 incense sticks, each with an approximate burn time of 90 minutes.
Sustaninably  harvested in Peru. Plants and Teas only works with suppliers who utilize ethical, fair trade and sustainable practices.