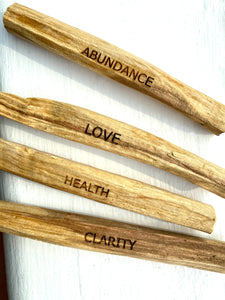 Palo Santo - Affirmation Pack of 4 - $20
Set your intentions this new year with these long-lasting Palo Santo affirmation sticks.  Comes with four Palo Santo sticks engraved with the following affirmations, (Love, Clarity, Abundance and Health.  Smudging is a ritual through which we cleanse the energy of a physical space, object or person.
These sustainably harvested, high-quality Palo Santo smudging sticks are hand-picked and hand-rolled by talented Peruvian artisans.

When burned, the stick produces a fresh, aromatic scent.  The smoke gives off a purifying, grounding effect that may help promote feelings of tranquility and peace.

Smudging sticks come in a reusable glass jar.

To use, light the tip of the stick and allow the wood to burn for under a minute before blowing out the flame.  Relight as needed.

SERFOR (National Forest Service and Wildlife) certified.
Details:

4 wooden sticks, approximately 4 inches long
Never leave burning stick alone
Sustaninably  harvested in Peru. Plants and Teas only works with suppliers who utilize ethical, fair trade and sustainable practices.