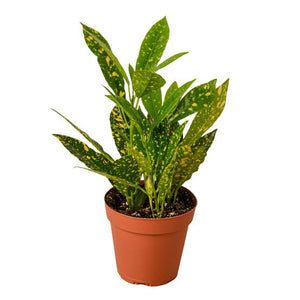 Croton 'Gold Dust' -  (4") - $15 Nursery Pot / $35 w/ Planter
*only Black or White Cylinder Planters are available
The Croton Gold Dust house plant has deep green leaves with yellow spots. The bright colors on the leaves help light up rooms. The Croton Gold dust like all crotons, like high humidity and ample light. They are overall robust plants that have bright colors.
Plant Care: 
Bright indirect to bright light.

Water thoroughly when the soil begins to dry out.
Air Purifying: 
Working as a natural air purifier, place Gold Dust in a bright dining or living room where its foliage will both clean and energize the room.
Pet Friendly:
No